Tweet
From Marine Mom and Founder, Tracy
Here's Why a Bulldog is My Buddy for My Walk
From the Founder, Marine Mom Tracy
I hope you'll read my story and register for our virtual run.
My Marine son did three combat deployments during his four years in the Corps between 2001-2005. When he left the Marine Corps, he was diagnosed with PTSD, Post Traumatic Stress Disorder. It's estimated that 1 out of every 5 service members from OIF/OEF suffers from PTSD.
We bought my son a bulldog to be his buddy and companion during those years of isolation and hurt. In true Marine form, he named the bulldog "Choder" and he was my son's reason to get up every day...because Choder needed him and he needed Choder.
I've recently lost over 90 pounds so I'm ready to do this. I'm going to walk three miles one day in June for the Marine Parents June Virtual Run to bring awareness to PTSD. Cami, this little bulldog who shares my birthday with me (FLAG DAY) will be my buddy. (I'll be pulling her in a wagon!) In honor of my son. In memory of Choder. But most importantly, to bring awareness to PTSD.
My Marine son, my daughter, and her 4 children will join us. If we can do this, so can you. Please register today; 100% of the proceeds benefit the outreach programs of Marine Parents. It's just $35.
God Bless and Semper Fi,
Tracy Della Vecchia
Posted on 6/14/2000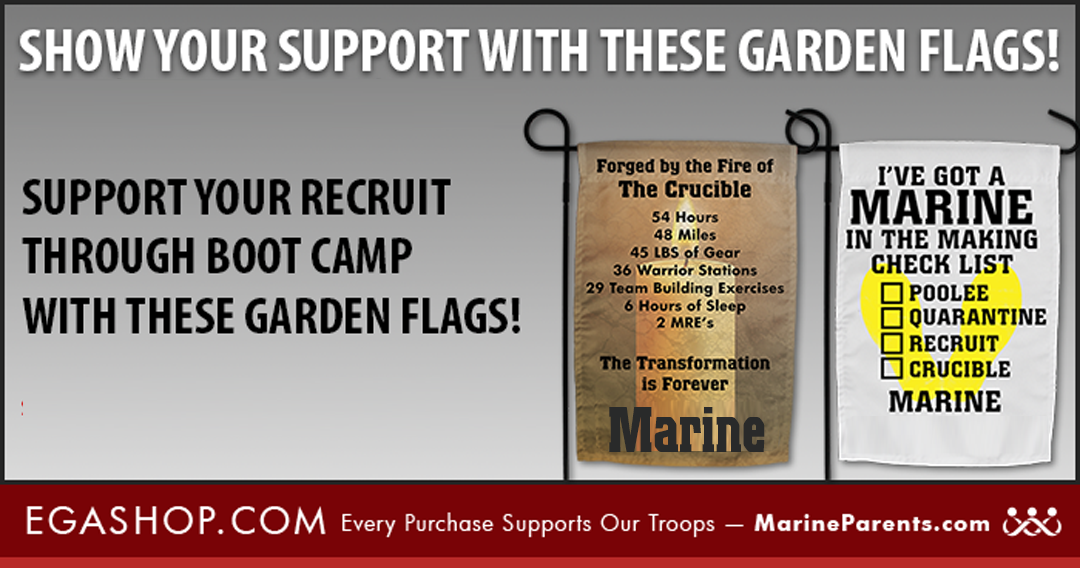 Support your recruit through boot camp!
Your recruit needs your support! Get these garden flags and cheer them on!