Tweet
Despite Adversities, Marine MoM Returns to TMP!
Ooh Rah! It's exciting to have you back Michelle!
Michelle Tate has been a Team Marine Parents participant since 2020. Today we're thrilled that despite many adversities, she's back on the team for 2022! Though she is undergoing dialysis treatments, her service as a volunteer for the organization has never wavered. Her belief in Semper Family keeps her committed to supporting the families of Marines. Her doctor approved her doing light physical activity during her dialysis and waiting for a kidney transplant; she immediately wanted to get back on TMP.
I am setting a fundraising goal of $500 for this year. I feel so blessed knowing that the money raised goes to support the brave men and women who have stepped forward to protect our freedoms.
- Michelle Tate
Michelle wants to raise money for the outreach programs of MarineParents.com. We are grateful for every step she takes not only for herself, her daughter, and her Marine son but also for the organization. She believes in our mission to support Marines and their families through every aspect of the Corps. Let's rise together as Semper Family to help Michelle reach and surpass her fundraising goal!
As a member of TMP, participants set a goal to raise money for the outreach programs of MarineParents.com. Outreach includes information and services to family members of a recruit or Marine, shipping publications to Marine Corps recruiters about our programs and services, travel assistance for boot camp graduations, and providing resources to Marines reintegrating back into civilian life.
Posted on 5/3/2022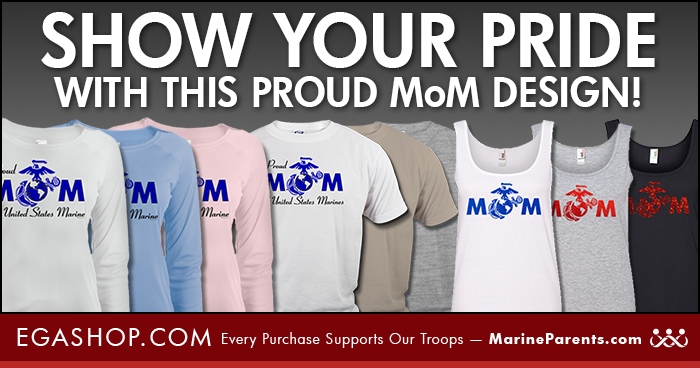 This design is ON SALE!
This design is for every proud MoM out there!