Support Our Troops Wristbands from MarineParents.com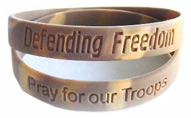 Update: as of January 31, 2012 this fundraiser is now complete. Our partnership in this program raised over $37,150.00 since its implementation on June 17, 2005. However, should you still want to purchase one of these wristbands, you can purchase one in our EGA Shop by clicking here.
We want to extend our exuberant appreciation to Phil Randazzo of Defending Freedom for his ongoing support through his long-standing program of "Defending Freedom" wristbands. He has worked with us since 2004.