Meet Shelly
a volunteer at MarineParents.com. Our volunteers work around the United States in a variety of capacities. Please give a shout out of thanks to one of our Official Marine Parents Facebook Group volunteers!
---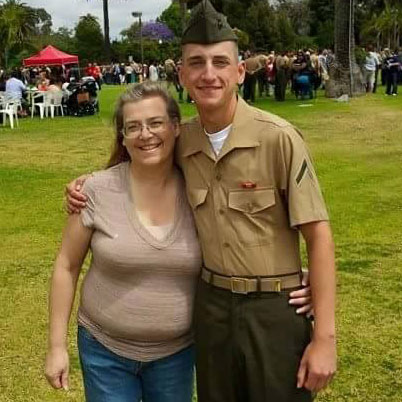 Shelly Crowther
Asst. Coach Stages
Marine Parent and Volunteer
Facebook Groups Volunteer, Trainer,
Shelly has been volunteering with MarineParents since March of 2015. She is currently serving as the Assistant Coach for our Stages Group.
Shelly found MarineParents when her youngest son left for boot camp in January of 2015 and decided to volunteer shortly thereafter. Initially, Shelly served as a Platoon Parent and when asked to be the Group Leader for Mike Company, she didn't hesitate to say yes. Shelly has now completed six cycles as a Group Leader and has met some "awesome" people during that time. According to Marine Parents Facebook Groups Manager, Teresita Reynolds, "Shelly is one of the strongest leaders in the Marine Parents Facebook groups. Her unfailing support and encouragement of our members is exemplary."
In addition to volunteering on Facebook, Shelly is also a member of Team Marine Parents and has trained for the October, 2016 Marine Corps Marathon.
Back to the list of Official Marine Parents Facebook Groups Volunteers