Structure of a Marine Corps Regiment
4 Marines to a Fire Team, 3 Fire Teams to a Squad, 4 Squads to a Platoon, 3 Line Platoons and 1 Weapons Platoon to a Company, 5 Companies to a Battalion, 5 Battalions to a Regiment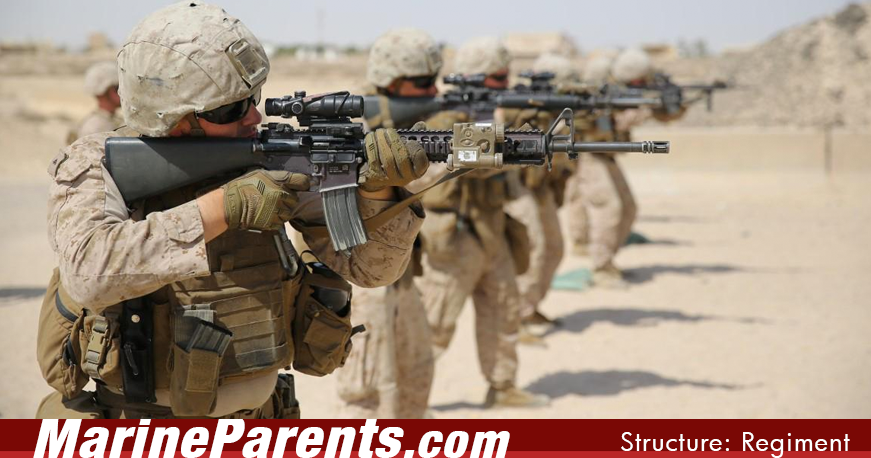 This section is in development; I'll be adding to it as I research and find accurate information.
Structure of a Regiment: (Updated 9/23/2004)
4 Marines to a Fire Team (4)
3 Fire Teams to a Squad (12)
4 Squads to a Platoon (48)
3 Line Platoons and 1 Weapons Platoon to a Company (192)
5 Companies to a Battalion (960)
5 Battalions to a Regiment (4800)
NOTE: Field Artillery Units are not referred to as a Company; they are called a "Battery". As an example, E Btry 2Bn 11th MAR. You will know this is a Field Artillery Unit where "E" is the "Battery" rather than a company name.
7th Marine Regiment:
3/4: 3rd Battalion, 4th Marines (a/k/a Thundering Third)
(Includes the following companies: India, Kilo, Lima, Weapons)
3/7: 3rd Battalion, 7th Marines
3/11: 3rd Battalion, 11th Marines
2/7: 2nd Battalion, 7th Marines
I believe H&S (Headquarters & Supply) is part of this as well, though they may be referred to as HQ, not to be confused with an HQ Platoon though.)
Image info: Security Force Marines with 3rd Battalion, 7th Marine Regiment, Special Purpose Marine Air-Ground Task Force -- Crisis Response -- Central Command, conduct a live-fire table five range in Southwest Asia, September, 29, 2015. The range tested the Marines ability to move, shoot and communicate ensuring the units mission readiness. The SPMAGTF-CR-CC provides the Commander, U.S. Central Command with a wide array of crisis response and contingency options across the 20 countries in the Area of Operations.
—Photo by Cpl Jonathan Boynes.