Informational Links:
Active Duty Alerts Help Protect Military Personnel from Identity Theft
Text below quoted from the FTC website, November 28, 2007
"If you are a member of the military and away from your usual duty station, you may place an "active duty alert" on your credit report to help minimize the risk of identity theft while you are deployed.

"Your credit report contains information on where you live, how you pay your bills, and whether you've been sued, arrested, or filed for bankruptcy. Creditors, insurers, employers, and other businesses use the information in your report to evaluate your applications for credit and for many other purposes.

"Unfortunately, identity thieves may use your personal information to open new accounts in your name. Then, when they don't pay the bills, the delinquent accounts are reported on your credit report. Inaccurate or fraudulent information could affect your ability to get credit, insurance, or housing, now or in the future.

"However, if you place an active duty alert, businesses must verify your identity before issuing credit in your name. This makes it harder for identity thieves to use your information to apply for credit. Active duty alerts on your report last for one year, unless you request that the alert be removed sooner. If your deployment lasts longer, you may place another alert on your report.

"For more details on active duty alerts, including how to place one on your credit report, please see the official FTC links noted above."
Protecting Against Identity Theft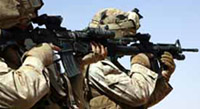 You can setup an "Active Duty Alert" through any of the three major credit reporting agencies. Your Marine should do this while stateside prior to deployment, however, it can be done at any time by phone. The reporting agency will ask for identifying information such as social security number and other personally identifying information. The law allows military personnel to use a personal representative to place or remove an alert (see the link above to the "Consumer Alert" from the FTC for additional information).
The following phone numbers from the FTC site are for the three major credit reporting agencies:
Equifax: 1-800-525-6285; www.equifax.com; P.O. Box 740241, Atlanta, GA 30374-0241
Experian: 1-888-EXPERIAN (397-3742); www.experian.com; P.O. Box 9532, Allen, TX 75013
TransUnion: 1-800-680-7289; www.transunion.com; Fraud Victim Assistance Division, P.O. Box 6790, Fullerton, CA 92834-6790
Contact only one of the three companies to place an alert - the company you call is required to contact the other two, which will place an alert on their versions of your report, as well. If your contact information changes before your alert expires, remember to update it.