Meet Denise
a volunteer at MarineParents.com. Our volunteers work around the United States in a variety of capacities. Please give a shout out of thanks to one of our Official Marine Parents Facebook Group volunteers!
---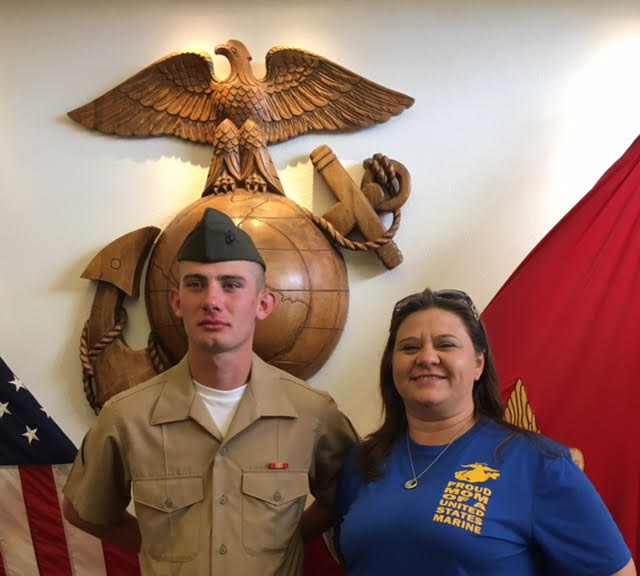 Denise Allen
VITPP Team Boot West or any Recruit group
Marine Parent and Volunteer
Denise currently trains as a platoon parent for Team Boot West. She hopes that in sharing her experiences and learned knowledge with those new to the process, she is able to calm worries of the unknown.
Denise is an INCREDIBLY PROUD MoM from the Texas Gulf Coast. She lives with her fiancé, her 3 other boys (one which is a Poolee, set to ship the summer 2018), and 2 bi-weekly, bonus kids. She works for a medical billing company for a major hospital organization in Operations & Credentialing. Her Marine has known his path since he was very little and she is elated to watch him live his dream. In her 'spare' time, she enjoys watching her children' (all 5's), football & baseball games and cheer competition. She also dabbles in crafting, there have been many attempted Pinterest projects.
Denise decided to volunteer during her son's assignment at MCT. She found that she was sympathetic to the new class of Lima as well as Poolee parents. She offered tidbits here and there to help others who felt as lost as she had. After much thought and many prayers, she signed on to help guide those who may need a kind word or just comforting thought to know they aren't alone. Many encouraged her through this experience into being a Marine parent, she would like to pay it forward.
Back to the list of Official Marine Parents Facebook Groups Volunteers