Meet Laura Fly
Board of Directors, MarineParents.com, Inc.
---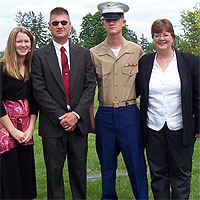 Laura Fly
Director of Community Relations
Laura has been married to her husband, Dwight for over half her life. They are the proud parents of a daughter, Danielle and a son, Derek, a US Marine. Derek graduated MCRD San Diego in January of 2005. Laura found MarineParents just before Derek left for Boot and has been posting and chatting away ever since! Always eager to learn something more about being a Marine mom as well as trying to help others on the site, keeps her busy in addition to her day job. Laura is lucky to have met several site members and volunteers and has built friendships that will last a lifetime. Being involved with MarineParents.com/MFN allows her to help others as she has been helped along the way. Derek returned from his 1st deployment to Iraq in April '06 and deployed back to Iraq in August '06. He's recently completed serving his 3rd IOF tour with the Marines of RCT-1. He's just ended his active service and begun his 4 years of IRR. She is a proud supporter of our Troops and has several "adopted" Marines very near and dear to her heart.