Combined Federal Campaign-Help Spread the Word!
A common characteristic shared by a large majority of Marines, regardless of age or rank or MOS, is a desire to help others and make the world a better place. In many instances, this desire to help others no matter what cost, even at the risk of their own life, is what prompts a person to join the Marines in the first place.
In this spirit of giving back to others, we invite you to support us this year as we join in the world's largest and most successful annual workplace charity campaign, the Combined Federal Campaign (CFC), and help us give back to the Marines who sacrifice so much on our behalf.
The CFC is comprised of almost 200 charity campaigns throughout the country and overseas. All Federal civilian, postal, and military employees have an opportunity to choose from the CFC charities and pledge donations to the cause/s that matter most to them. In 2013 Federal employees contributed over $200 million dollars to CFC charities. While not all of you are Federal employees, each and every one of you can help this campaign succeed!
If you ARE a Federal employee, please look for us in the CFC Charity List this year and consider pledging your generous contribution to our organization. You're already here so we know this cause is important to you!
If you are NOT a Federal employee, as many, if not most, of you aren't, you can still help us spread the word. Tell any Federal employees you may know (friends, family members, your mailman, in addition to your Marine, of course!), "look for Marine Parents in the CFC Charity List! #57100." You can help us spread awareness of, and help raise money for, this wonderful cause.
When it's time to choose your CFC Charity, choose CFC # 57100 to support the troops and their families through the outreach programs and services of MarineParents.com. Only 5.7% of our annual expenses go toward administrative and fundraising expenses, so for every dollar you donate, 94.3 cents of it goes directly to Marines and their families!
The campaign season begins in early September and ends in mid-December.
As with all of our fundraising campaigns, the success of this depends on you, the Marine Parents family. None of what we do is possible without your extremely thoughtful and generous support. You've stepped up to the plate big time in past fundraising campaigns, now it's time to see if we can hit another home run this time around!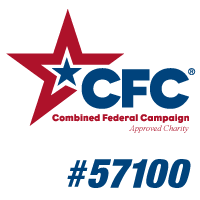 Use "MyPay" To Contribute
Enter the Marine Parents Charity Number (571000)
Set up your contribution
Presenters & Exhibits
We're looking for presenters to exhibit and possibly present at CFC drive events in states around the US.
Click here to learn how you can help
.