Marine Corps Parental Leave Policy Changes June 2018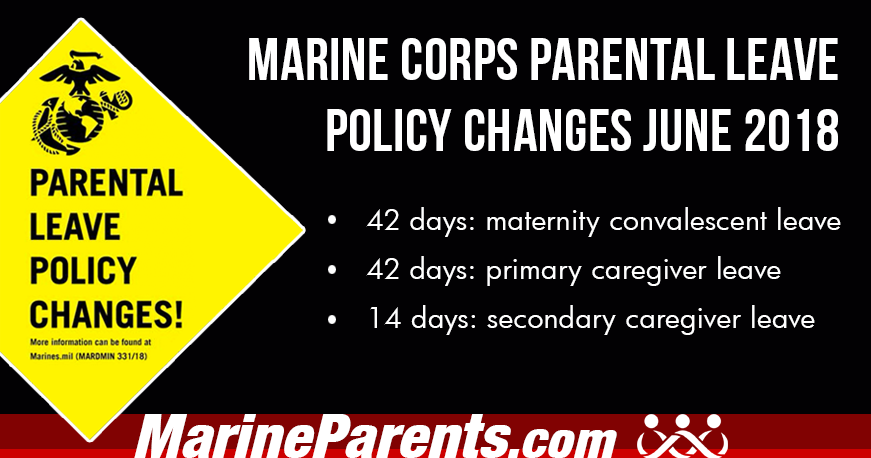 On June 14, 2018 the United States Marine Corps signed MARADMIN 331/18, implementing changes to the parental leave policy that are retroactive to December 23, 2016.
The change in policy alters the number of leave days allowed for the secondary caregiver, not the primary caregiver. However, it does give the Marines more flexibility. Primary caregivers and Marines on maternity convalescent leave can take up to 42 days of non-charged leave. Secondary caregivers can now take 14 days instead of the previously authorized 10 days. The birth parent is eligible for both primary caregiver leave and maternity convalescent leave and can take them in conjunction with one another for a total of 12 weeks. The difference is now they are allowed to split them up. After the initial six weeks they can wait to take the additional six weeks, but the leave must be taken within one year of the birth. Dual military families also have the option to declare one or the other as the primary caregiver and the other as the secondary caregiver. For example, if the parents decide the mother will be the secondary caregiver and the father will be the primary caregiver then the mother will take her six weeks of maternity convalescent leave and the father will be allowed to take the six weeks of primary caregiver leave. That leaves the remaining 14 days of secondary caregiver leave for the mother as well.
For more specifics on the policy change view MARADMIN 331/18.
Infographic from the Marine Corps: