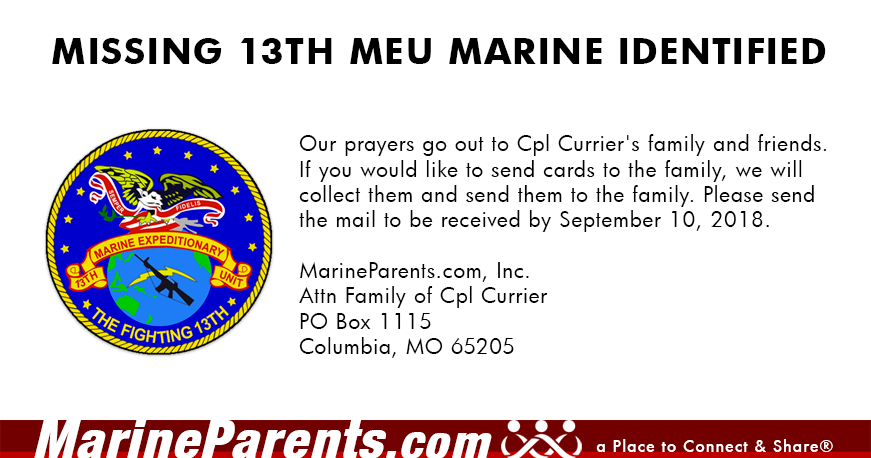 Missing 13th MEU Marine Identified
The 13th MEU Marine who was reported overboard from the amphibious assault ship Essex has been identified as Corporal Jonathan Currier.
Cpl Currier was first reported missing on August 9th while routine operations in the Sulu Sea were being conducted by the Essex Amphibious Readiness Group. He has officially been declared dead, according to a 13th Marine Expeditionary Unit release.
Our prayers go out to Cpl Currier's family and friends. If you would like to send cards to the family, we will collect them and send them to the family. Please send the mail to be received by September 10, 2018 at the latest. Send to:
MarineParents.com, Inc.
Attn Family of Cpl Currier
PO Box 1115
Columbia, MO 65205
If you choose to send a card, you may include your return address but please do not expect a response from the family.
Cpl Currier was a New Hampshire native who graduated from Marine Corps Recruit Depot Parris Island in November 2015. After completing the School of Infantry (SOI) and his Military Occupational Specialty (MOS) school he was stationed at Marine Corps Air Station Miramar, California and assigned to Marine Heavy Helicopter Squadron 361. He would eventually become a CH-53E Super Stallion crew chief.
His awards include the National Defense Service Medal and the Global War on Terrorism Service Medal.
The search for Cpl Currier lasted five days and covered more than 13,000 square nautical miles with more than 110 sorties and 300 flight hours.
The Essex was aided in the search by the U.S. Embassy in the Philippines, U.S. Coast Guard, Philippine Coast Guard, and the Singapore Information Fusion Center.
The circumstances surrounding Cpl Currier's death are currently being investigated.