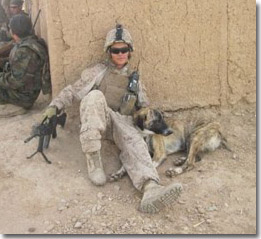 Click here
to visit the blog Julie created about Kujo's rescue!
In September 2010, Julie, a mom on the Marine Parents message boards, posted an interesting request to other message board members: to help her rescue her son's company's dog.
Her son's squad was anticipating the end of their deployment, and they were worried about the fate of the huge Afghan wolfhound that had become the squad's protector.
The Marine mom decided to try to bring home the dog that brought her son and his company so much joy.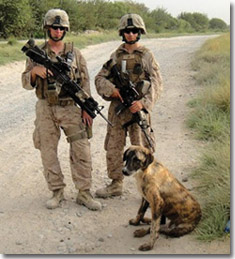 Julie quickly learned that it was going to be a difficult and expensive task. However, over the course of two months and 124 posts on the "Kujo" message board thread on MarineParents.com, the mom gathered enough support and raised $3,300 to have Kujo brought back to the states and adopted by a family in Texas.
Kujo now lives with his new family and loves it. He runs and plays on the family's 56 acres in Central Texas, and he also brings smiles to the faces of children he visits at local elementary schools.
Julie says she is trying to arrange a visit between Kujo and her son when he comes home for leave.
This story is just another example of what the support of your Marine Corps family can do!