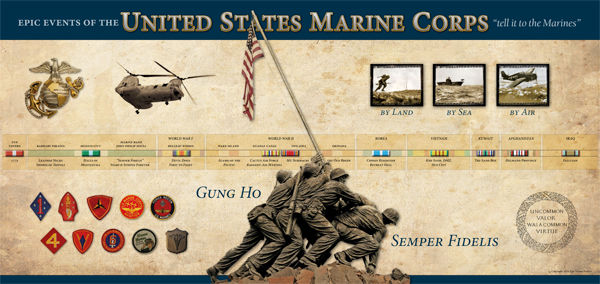 It's a story as old as the military itself. A young man adrift and in need of direction joins the military, and his world falls into place. Marine Corps Vietnam veteran Ernie Fantini is no different.
"The Corps changed my life for the good," he says, "but of course, I was lucky. I was a young man heading for trouble. The Corps gave me an inner discipline that has never left."
To pay it back in his own way, Ernie developed a poster entitled, "Epic events of the United States Marine Corps: 'Tell it to the Marines.' "
It cost him $2,000 to pay the Lawrence, Kansas, designer and have the poster printed in North Kansas City, Missouri. Ernie said he made the poster for himself, but when other people saw it, they encouraged him to print more and sell it. To do so legally, however, he needed a license from the Marine Corps. After six months of paperwork, he started marketing the poster, of which he had 1,000 copies made.
And recently he contacted Marine Parents, offering us the opportunity to carry his poster at a huge discount in the EGA Shop.
"After looking at your website," Ernie wrote, "and seeing your goals, I would be proud to have you carry my products. I cannot tell you how much it meant to us, in Vietnam, to receive packages from groups and organizations back home. More than the items in the packages, the thought that people back home cared about us and supported us meant a lot. I cannot find words to express my thanks."
A self-described amateur historian, Ernie contracted the graphic artist to bring his vision of the poster to life, a vision that "illustrates the Marine Corps in a historical context," he said.
"I wanted to show how an individual Marine is part of the continuum of the history of the Corps, a proud tradition; in my opinion, modern day Spartans."
In 1968, Ernie enlisted in the Marines. He served about a year and a half, including seven months in Vietnam. He arrived in country as a rifleman in the First Marine Division, Third Battalion, Fifth Marines (3/5) India Company, Third Platoon Bravo Squad.
The memories are vivid.
"My 9-11 was 9-11-69," Ernie says. "I had just been 19 for six days. The company walked into an ambush. We were setting up the perimeter for the Medevac when my platoon was ambushed. There were 13 in my squad; 15 minutes later, there was me and two others who were not wounded or dead. One of the dead was Larry Leadbetter. I watched him die after trying to save others. He was a true friend – the best I ever had – my mentor. Larry only had days left on his tour. He should have been awarded a medal."
Ernie's tour ended early when he returned to the States on emergency leave. His wife had received a phone call that Ernie had been blown apart, with no arms or legs or face but still alive. Frantic and unable to confirm the phone call's claims, she attempted suicide. After he was home for a few years, Ernie found out that his mother, who lived in a different part the country, had received the same call.
"Neither of the two women I loved the most knew about the other's call. It still seems incredible to me that this could happen," he says. "I am relieved to see that the public is not turned against the troops in our present times."
His wife's military doctor did not think he should go back to Vietnam. So he wound up being attached to a reserve unit in Abilene, Texas, and was discharged hardship under honorable conditions. It gnaws at him still.
"I still feel guilty to this day for leaving my comrades in the squad," he says. "As crazy as it sounds, I wanted to go back to a place I felt certain I would die in."
Instead, he survived. Today he lives in Lawrence, Kansas, and he is a carpenter, mason and contractor specializing in passive solar construction. His connection to the Marine Corps, like hundreds of thousands before him, remains strong. His poster is proof.
We're honored to carry the artwork of a Marine and thank Ernie for his service to our country. We hope you will be honored to display this fine print in your home or office. Ooh Rah!