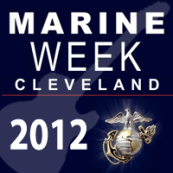 Marine Week is just a few short weeks away, taking place June 11-17, 2012 in Cleveland, Ohio. The full schedule can be found
here
, so check it out and make plans to attend a celebration of community, country and Corps. All events are free and open to the public.
If you're interested in the military and the Marine Corps in particular (and if you're reading this, it's a good bet you are interested), there's a little something for everyone during Marine Week.
Static equipment displays are scheduled to include the following: MV-22 Osprey, AH-IZ Super Cobra, CH-46 Sea Knight, Amphibious Assault Vehicle (AAV), Mine Resistant Ambush Protected (MRAP) Vehicle, High Mobility Artillery Rocket System and the M777 Howitzer. The displays can be seen at the Rock and Roll Hall of Fame, Public Square, Voinovich Park and Gateway Plaza. Check the schedule while in Cleveland for the specific locations.
The largest replica of the Vietnam Veterans Memorial will be on display all week at Voinovich Park, with a Marine Honor Guard posted. Also, a traveling memorial of more than 400 full-size flags honoring Ohio's fallen in connection with the war on terror will be on display.
Marine Corps martial arts demonstrations are on tap each day in Public Square, and if you're a dog lover, check out the military working dog team demonstrations, also in Public Square. Please don't feed the animals. Or the Marines.
A Marine Corps bugler and color guard will honor fallen service members with a wreath-laying ceremony every day in Voinovich Park.
You've seen them in the TV commercials, so now see them in person as the Silent Drill Platoon is performing several times throughout the week.
In addition, every day there's a Quantico Marine Band concert; a USMC science and technology expo; a National Museum of the Marine Corps exhibit; an early education outreach program; and Marines in the community programs, which include the Central Recreation Center restoration and Marine artists painting a Marine Week mural.
Throughout the week Marines will lend a hand to local communities through dozens of service projects, such as neighborhood clean-ups, park restorations and housing rebuilds. The week will culminate with a simulated full-scale combat demonstration as the Marines highlight the unique capabilities they use to fight our country's battles in the air, on land and at sea.
"The City of Cleveland is pleased to host Marine Week in 2012. It will be a true honor and privilege to celebrate the service of the brave men and women who protect us and our freedom," Mayor Frank G. Jackson said.
Morning Colors are held at 8 a.m., Evening Colors at 9 p.m. and Taps at 10 p.m.