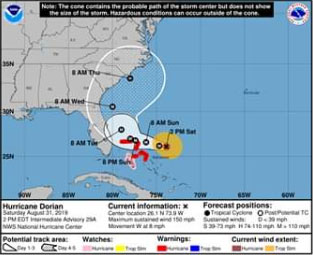 Hurricane Dorian Update
Added September 1, 2019
The following announcement is currently on the Camp Lejeune and MCAS New River pages on marines.mil in regards to Hurricane Dorian. However, Hurricane Dorian could eventually affect the other bases in the area such as MCAS Cherry Point, MCAS Beaufort, and MCRD Parris Island.
Marine Corps Air Station New River and Camp Lejeune are currently in Tropical Cyclone Condition V. (TCC V) As of the National Hurricane Center Advisory Number 29 (1100 31 Aug 2019), both bases lie to the north of Hurricane Dorian's new forecast track but well within the storms cone of uncertainty.
All base components, tenants, and community members are advised to:
Police your area. Take in anything that could be picked up by the wind or carried into, and block storm drains. Ensure all windows and doors close properly. Ensure all motor transport and outdoor storage lots are carefully inspected and made as weather-safe as possible. Relocate vehicles and containers that are in low lying areas, ensure storm drains are not blocked.
Individuals and families should inventory emergency supply kits. Ensure an adequate supply of no-cook shelf-stable food, drinking water, baby supplies, and prescription medications are on hand. Ensure important documents are weatherproof. Don't forget pets.
If you plan to leave the area, consider your route carefully, leave early, and ensure your unit/neighbors know where you are going and how to contact you.
Monitor the National Weather Service and National Hurricane Center forecasts and follow the advice they offer.
For live updates on Hurricane Dorian, you can also visit https://edition.cnn.com/us/live-news/hurricane-dorian-september-2019/index.html.