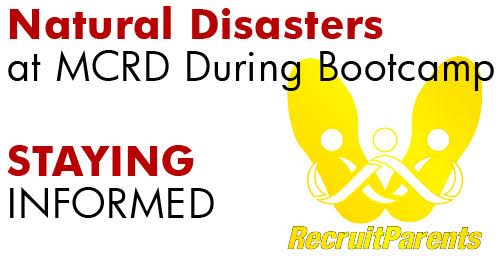 Hurricane Dorian Update - From the Founder
Added September 2, 2019
Regarding Hurricane Dorian
The most important thing for family members of recruits in boot camp to understand is that the Marine Corps has a plan in place for any kind of emergency that may be encountered. Not only is the plan in place, but plans have been implemented many times throughout the years. The Marine Corps wants to keep their Marines and recruits, your loved ones, safe and ready. If there is only one thing you come away with from this, let it be "The Marine Corps has got this" and there is no need for you to worry.
In the past when there have been mandatory evacuations for Beaufort County (Parris Island), the graduations have been postponed and in one instance that I recall, they were canceled. Because there is a mandatory evacuation, no one will be allowed to travel into the area. You will need to bide your time to see when the evacuation has been lifted. This is a weather event and most airlines will offer some type of compensation for travel that may be canceled for the hurricane.
The Marine Corps will not release newly-graduating Marines during a hurricane and/or the aftermath of any storm surges. This is completely weather-dependent and there is nothing you nor I can do to change the path of the hurricane nor the plans that must be implemented. If you are the family of a Marine graduating this week, as hard as this is to accept, it is what it is and there is no "other" course of action to be taken.
As events and the hurricane continue to unfold, the Marine Corps base command at MCRD Parris Island will update their websites and facebook pages to keep families informed about boot camp graduation. I'll post additional articles and links below.