Marine Corps Captain Katie Higgins made history this week by becoming the first female pilot in the 69-year history of the U.S. Navy Flight Demonstration Squadron, more commonly known as the "Blue Angels." While other women have been on the Blue Angels team before, Higgins is the first to be in the cockpit. The following is Captain Higgins' official biography from the Blue Angels' website.
"Captain Katie Higgins is a native of Severna Park, Maryland, and graduated from W.T. Woodson High School in 2004. She attended the U.S. Naval Academy, Annapolis, Maryland, graduated with a Bachelor of Science degree in Political Science in 2008, and was commissioned a Second Lieutenant in the U.S. Marine Corps. Katie then attended Georgetown University, Washington, D.C., and graduated with a Masters of Arts in International Security in 2009.
Katie reported to Naval Air Station (NAS) Pensacola, Florida, for aviation indoctrination in November 2009. She completed primary flight training in the T-6B Texan II at NAS Whiting Field, Florida, and completed intermediate and advanced training in the T-44 Pegasus while assigned to Training Squadron 31 (VT-31) at NAS Corpus Christi, Texas. She received her wings of gold in October 2011.
Katie then reported to 2nd Marine Aircraft Wing at Marine Corps Air Station (MCAS) Cherry Point, North Carolina, for initial training in the KC-130J Hercules. She reported to Marine Aerial Refueler Transport Squadron (VMGR-252), "Otis," at MCAS Cherry Point, in May 2012, to begin training in the KC-130J Harvest Hercules Armament Weapons Kit. While assigned to VMGR-252, Katie deployed to Afghanistan in support of Operation Enduring Freedom, and to Africa with Special Purpose Marine Air-Ground Task Force Crisis-Response in support of contingency operations.
Katie has flown almost 400 combat hours in support of numerous operations and exercises in Afghanistan, Djibouti, France, Greece, South Sudan, Spain, and Uganda.
Katie joined the Blue Angels in September 2014. She has accumulated more than 1,000 flight hours. Her decorations include five Air Medals, and various unit and personal awards."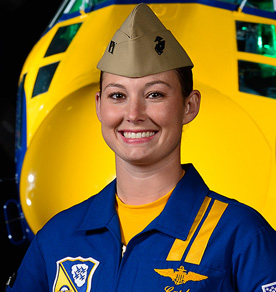 (Dept. of Defense photo/Released)