Gunnery Sgt. Brian Jacklin, originally from Los Angeles and a member of 1st Marine Special Operations Battalion, was presented with the Navy Cross Thursday, April 16, 2015 for bravery during a 48-hour firefight in 2012. Jacklin received the Corps' second-highest award for heroism in a ceremony at his unit's headquarters at Camp Pendleton, California.
On June 14, 2012, while serving as an assistant leader of a team conducting village stability operations in Afghanistan's Helmand province, Jacklin's special operations team was in a village compound when it came under heavy Taliban gunfire. With his team leader and another Marine critically wounded in the attack, "...Gunnery Sergeant Jacklin seized control and orchestrated a counterattack," according to his medal citation.
The attack rendered the team's primary communications link inoperable, so Jacklin set up alternative communications with a nearby unit. While calling in direct and indirect fire and aircraft strikes on enemy positions, Jacklin simultaneously coordinated evacuation efforts, leading team members out of the compound and across open terrain while under fire to set up a landing zone for a casualty evacuation aircraft. Enemy fire prevented the aircraft from landing on its first attempt so Jacklin, "[rained] M203 grenades on the enemy and [directed] the fires of his team" until the wounded Marines could safely be evacuated.
When the rest of his team was relieved by another special operations unit that evening, Jacklin chose to stay behind and fight the enemy, providing, "....vital intelligence, tactical assistance and deadly accurate personal fires." Throughout the two-day fight, Jacklin, "...inspired all around him as he led a vicious fight to defeat a determined enemy force," his citation reads.
Jacklin received the Silver Star from Maj. Gen. Joseph Osterman, commander of Marine Corps Forces Special Operations Command. During the same ceremony, five of Jacklin's team members were awarded with the Bronze Star with combat "V" device for their respective roles in the battle. They are: Gunnery Sgt. William Simpson IV, Staff Sgt. Christopher Buckminster, Staff Sgt. Hafeez Hussein, Sgt. William Hall and Sgt. David Harris, all of whom are critical skills operators.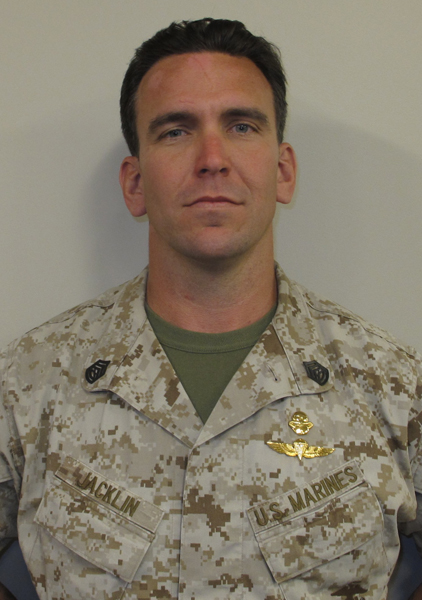 (USMC photo/Released)