Thirteen Years of Service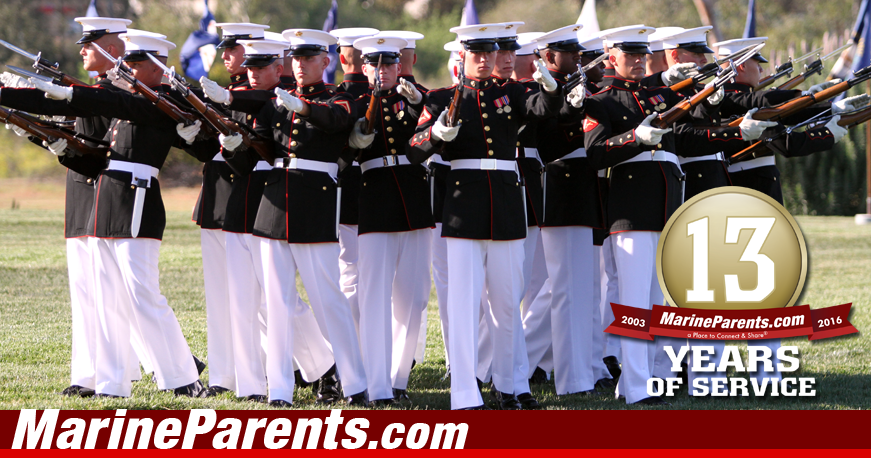 We are pleased to announce that Thursday, January 21, 2016, marks the 13th anniversary of the founding of MarineParents.com, Inc.
In the 13 years since Founder & Executive Director Tracy Della Vecchia began MarineParents.com in her home, much has changed with the organization. One thing that hasn't changed, however, is our dedication and commitment to supporting Marines through all stages of their career in the Corps and providing "a Place to Connect & Share"® for recruit and Marine families.
Over the years, we've provided "a Place to Connect & Share"® in multiple formats. First, we had the Marine Parents message boards. We then transitioned from the message boards to our own online network, the Marine Family Network (MFN), an online community for recruit and Marine family members that was highly successful for a number of years. And finally, due to popular request, we launched the Official MarineParents.com Facebook groups last January.
In the 12 months since we launched our Facebook groups, more than 20,000 Marine and recruit family members have joined these groups. This is truly remarkable and we can't thank our group members enough for their confidence in our ability to provide accurate, up-to-date information as well as "a Place to Connect & Share"®. We'd also like to thank the Marine Parents volunteers who have dedicated their time and effort to ensure the success of these groups. Without their tireless work, these groups wouldn't be nearly as effective or successful as they've become.
We would also like to take this opportunity to thank you, the Marine Parents family, for your unwavering support since our founding. Over the past 13 years, you have come together to ship approximately 40,000 care packages to deployed service members through the Care Package Project, send more than 100,000 cards and letters to wounded troops through Operation: Prayers and Letters, and serve thousands of meals to wounded and recovering warriors at military medical centers on both coasts through the Warrior Support Team (formerly Purple Heart Hero Support). None of this would have been possible without our supporters and hundreds of dedicated volunteers around the country, and for this, we thank you.
Due to the decrease in the number of troops currently deployed, 2015 saw the closure of two of our long-running outreach programs, Operation: Prayers & Letters and the Care Package Project, as the necessity of these programs has decreased in concurrence with the troop drawdown. While MarineParents.com has always provided excellent informational resources for Marine and recruit families, the closure of these outreach programs will allow us to spend even more time focusing on providing information on the various stages of your Marine's career through our websites RecruitParents.com, WhatsAfterBoot.com, MarineParents.com, and AftertheCorps.com.
Additionally, in 2016, we're committed to continuing our ongoing support with wounded and recovering warriors on both coasts through our Warrior Support Team outreach program. Whether it's serving meals, providing resources, or just offering a smile and someone to talk to, the Warrior Support Team will be there to support those who have sacrificed so much on our behalf. We will also continue to provide support, information, and "a Place to Connect & Share"® for Gold Star families through our Gold Star Family Support outreach program on an as-requested basis.
Again, we'd like to thank you for your support over the past 13 years and we look forward to seeing what 2016 has in store!