You've been asking, and we've been listening! Families have asked to share their own homepages with photos on the message board communities, and now you can do just that!
Using any of our message board communities (see links to the left), you can now enter your homepage URL in your member profile. Your homepage may be a social web site such as "facebook" or "myspace", a blog, or just a link to share your photos.
To add your homepage to your message board profile, click the "profile" in the message boards. You'll see some new fields including a place to paste the "url" of your web site. (See the image below for how to access the "profile" link). To view another member's homepage, click their user name for their profile on the message boards.
Business web sites and advertising are not permitted. Additional guidelines and suggestions for OpSEC considerations are noted below the image. MarineParents.com is not responsible for the content of any homepage link published in a member profile.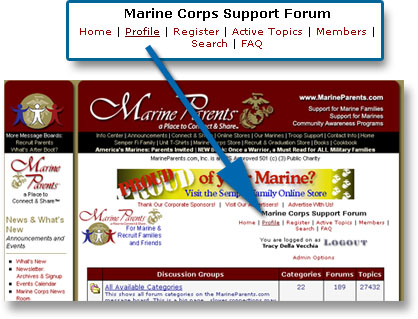 Your profile page is public. Use the guidelines below for posting information, a photo, and a homepage link in your profile:
Guidelines Apply:
The guidelines for posting on the message boards apply to your profile page as well. You can however, add a photo and link to your homepage in your profile page only.
OpSEC & Safety:
Your Marine knows what s/he should and should not say or share in social web sites. Families need to use the same caution and reserve with what they share and say online. OpSEC matters in all online communications.
Privacy:
Respect your Marine's privacy. Remember, just because you can, doesn't mean you should.
Your Homepage Link:
Members are allowed to post one link in the Homepage field of your profile only. Your homepage link may NOT be posted on the message boards.
Prohibited Links:
Additional links posted in the body of your profile paragraphs are prohibited. Links to web pages other than your personal homepage (i.e. advertising, blogs, message board communities) are prohibited. Links to promote any business, organization, cause or entity are prohibited.
Non-Compliance:
Members not following rules and guidelines will be asked to comply. Non-compliance will result in membership deletion.
Report Abuse:
Should you find information in a profile that does not follow OpSEC or which violates the rules and guidelines, please report the abuse to mp@marineparents.com and include the member name.
NOTE: MarineParents.com is not responsible for the content of any homepage link published in a member profile. Please see the guidelines published here and posted on each member profile page. Please report prohibited links or abuse to mp@marineparents.com.