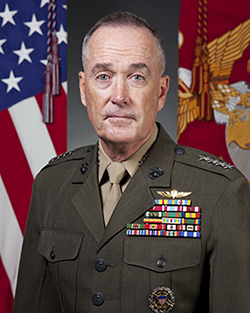 On October 17, 2014, General Joseph F. Dunford, 58, became the 36th Commandant of the United States Marine Corps in a ceremony at Marine Barracks Washington. Dunford, originially from Boston, Massachusetts, first joined the Corps in 1977 after receiving his commission following his graduation from St. Michael's College in Colchester, Vermont.
General Dunford assumed the role of Commandant from General James F. Amos who retired after 42 years in the Marine Corps following the passage of command. Amos, 67, became the first Marine Corps aviator to serve as Commandant when he assumed the role in 2010.
The change of command ceremony began at 10 a.m. and included formal honors with a pass-in-review featuring "The President's Own" Marine Band, and was attended by past commandants and Marine Corps Medal of Honor recipients, among others.
Prior to assuming the role of Commandant, General Dunford served as the commander of International Security Assistance Force and U.S. Forces-Afghanistan, leading all U.S. and allied troops in Afghanistan . Additionally, he served as assistant commandant for two years under Amos and was named one of Fortune Magazine's 50 greatest world leaders for 2014.
For more information, please click here...