December 17: The Wounded Warriors had a great time at the ball last month.
Click for a slide show of the night!
A recap of the ball from Purple Heart Hero Support™ Manager Joyce:
"I would like to thank all of you for your generous donations that helped make the Ball a huge success! The Wounded Warrior Battalion West Marine Corps Ball was held at the Westin Hotel with approximately 800 people in attendance. Wounded Warriors came in from Camp Pendleton, Palo Alto, 29 Palms, Yuma Az, and Balboa Hospital. All of them in their dress blues, it took my breath away! It was truly an evening spent walking amongst the Heroes, I was so humbled being around so many of these men that I have grown to know and love. Sgt Mjr Kufchak of the 7th Marines was our speaker for the evening, he's a Bronze Star and Purple Heart Recipient and has the respect of all the Marines, you could have heard a pin drop as he gave his speech. The cake cutting ceremony was incredible, they had the Marine Corps Band and I don't know if any of our volunteers had a dry eye when they did the Missing Man Table. We spent the evening with our Marines and saw so many that had returned to their units to finish recuperating. It was a great feeling having them all in one place. I think all of us had sore arms at the end of the evening from hugging them all!
After the dinner and the ceremonies we all went up to the second floor for a Casino Night and dancing. We handed out cigars MarineParents.com donated and the prizes that MP had donated were a huge hit. The Marines had so much fun vying for the prizes, and of course the Marine Parent volunteers had tons of fun announcing the prizes. Our youngest volunteers, Kimmie and Skyler played Vanna White, Curt and Sgt Seth MC'd the event. At 1:00 AM in the morning, there were still 200 people there! There was so much laughter and such a good time had by all. Thank you MarineParents, members and volunteers that support our Marines with so much heart!
Hugs,
Joyce
---
November 8: We raised a total of $10,460 for the Wounded Warriors Birthday Ball! Thanks to all that contributed to this fund. Below is a photo of the check being presented to Sgt. Michael.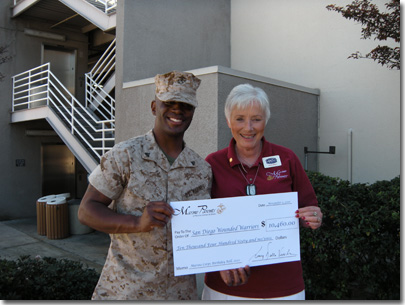 ---
October 28: We've exceeded our goal! We'll be sending the check for presentation on November 4. We will share photos online soon after. We will continue to add your donations to this campaign and goal meter through November 1. Additional funding donated to this campaign dated November 2, 2010 or later will be directed to the Wounded Warrior and Family meals provided by Purple Heart Hero Support™ at both Balboa and Bethesda. Purple Heart Hero Support™ is an outreach program of MarineParents.com, Inc.

Note: Any additional funds donated beyond what will be used for the Wounded Warriors Marine Corps Ball 2010 will be used for the 2011 Ball for Wounded Warriors.
---
On November 19, 2010, the Wounded Warrior Barracks in San Diego will hold a Marine Corps Birthday Ball for 300 wounded, ill and injured Marines at the Westin Hotel. The Marine Corps Birthday is a very important day for all Marines, but for some of our Wounded Warriors this ball has greater meaning.
Some will be attending the ball for the first time; for others this will be their last Marine Corps Birthday Ball as they will soon be discharged from the Marine Corps due to the extent of their injuries.
Our wounded Marines have sacrificed so much for us and for our country—now let's give back to them. Help us make this birthday ball extra special for the Wounded Warriors by sponsoring their attendance. It is important that those that are being discharged feel that they will be remembered, and that those that are attending for the first time experience the close fraternity of the Marine Corps.
For a donation of $199 you can fund the dinner tickets and overnight accommodations for one Marine and a guest. However, a donation of any amount will bring us closer to sending the Wounded Warriors to the ball. This is a great opportunity to show our Marines how much we appreciate them. Click here to donate on our secure donation page.
Our goal is to raise $9,950 which will send 50 Marines from the Wounded Warriors Barracks and a guest to the Marine Corps Birthday Ball this year. Help us meet our goal!


WW Birthday Ball Goal Amount: $9,950 ~ Goal Date: Nov 1
Thus far: $10,460.00 ~ Percentage as of November 8:

| | | | | | | | | | |
| --- | --- | --- | --- | --- | --- | --- | --- | --- | --- |
| 10% | 20% | 30% | 40% | 50% | 60% | 70% | 80% | 90% | 100% |
-->