Despite repeated setbacks, supporters of Sgt. Rafael Peralta are optimistic his Navy Cross will be upgraded to the Medal of Honor (USMC photo)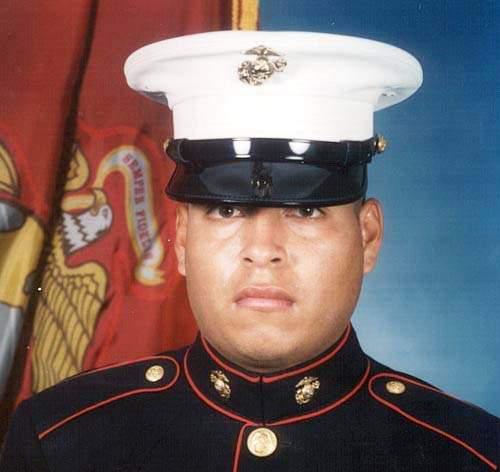 On November 15, 2004, 25 year old Sgt. Rafael Peralta was killed while on patrol during the Second Battle of Fallujah, Iraq. That day, Sgt. Peralta and his team were clearing houses in the city as a part of Operation Phantom Fury. Despite not being required to enter the houses himself, Peralta chose to do so anyway.
Sgt. Peralta and his squad cleared their first three houses without incident but, while inspecting the fourth, insurgents with AK-47s opened fire on the Marines, striking Peralta multiple times. As other Marines returned fire, insurgents threw a grenade at the Marines and the two Marines with Peralta were unable to exit the room. Reports from the Marines who were with Sgt. Peralta state that despite being severely wounded, Peralta reached out and pulled the grenade to his body, absorbed the blast and shrapnel, and instantly lost his life, allowing the Marines on his team to survive.
Despite the Marine Corps' recommendation at the time that Sgt. Peralta be awarded the Medal of Honor, then-Secretary of Defense Robert Gates questioned whether Peralta had acted consciously to absorb the blast, as he had also received a ricocheting rifle round to the head, ultimately posthumously awarding Peralta with the second-highest award a Marine can receive, the Navy Cross, in 2008.
Now, Rep. Duncan Hunter, R-Calif, is trying to get Sgt. Peralta's award upgraded to the Medal of Honor for the second time (Duncan unsuccessfully petitioned Sec. Gates' successor, Leon Panetta, in 2012), having written to Defense Secretary Chuck Hagel on October 22 asking Hagel to re-examine Peralta's award decision based on video evidence, pathology reports and other supporting evidence.
On December 4, Hunter received a call from Sec. Hagel in which he (Hagel) said that he is, "Looking at (the petition)...very seriously," according to a spokesman for Hunter. While Hagel has not yet formally reopened Sgt. Peralta's case, Hunter's spokesman says the Congressman is optimistic due to Sec. Hagel's infantry background (something both Gates and Panetta did not have). "He knows what it means to be in a situation like that," the spokesman said. "He also knows what would happen if a grenade detonated 1 to 3 feet from someone's body."
Click here to read more...