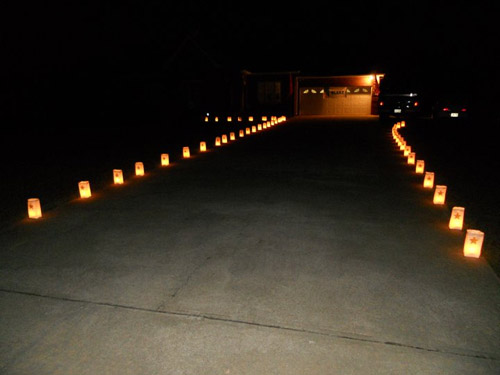 On September 26th, individuals, neighborhoods and cities across the country united in honoring Gold Star Mothers. More awareness was created about Gold Star Mother's Day this year, and it shows in the participation we have seen.
Many of our volunteers displayed their Gold Star Luminaries outside and shared their significance with their neighbors. Other Marine families set up beautiful luminary displays and posted pictures on Facebook.
We are so glad that more people are getting involved in honoring Gold Star Mothers, and we'd like to share with you how others recognized this important day.
One Marine mom made 539 luminaries—one for each of the homes in her community. When she presented the project to her homeowner's association for approval, one of the board members said he would reimburse her out of his own pocket to thank her for her son's service. She got her whole community involved in the luminary project, including students from the area's schools, the Women's Club, and even the community newspaper and magazine. It just goes to show that sometimes it only takes one person to get the ball rolling!
A Marine Mom from a city outside of St. Louis, Missouri, reached out to members of her Marine family support group, and she organized an evening ceremony in her home town involving the Gold Star Luminaries. "As a group we wanted to do more than just the end of our own driveways, so we came up with "Lite up the Park for Gold Star Mothers!" she said in a Facebook message. Hundreds attended the ceremony, including a few Gold Star Mothers. "We invited Gold Star Mothers to come out and we got three to show up!" she said. She was also on Fox News in St. Louis to talk about the event. She said that next year the St. Louis Airport will help with funding. "It will be bigger and better!" she said.
It's exciting to see that others are so enthusiastic about increasing awareness and recognition of Gold Star Mother's Day!
Another Marine Mom with a son in unit 1/3 made several luminaries in memory of her son's 10 brothers in arms that were KIA and their mothers.
On why she participated in Gold Star Mother's Day:
"I really wanted to offer my remembrance for all Gold Star Moms, families and loved ones because my son is a Marine who deployed with several Marines who gave all and I attended their memorial in Hawaii and met most of the families that day. It broke my heart knowing they would never be able to hug their sons, husbands, brothers, uncles, nephews, cousins, grandsons ever again and they too made the ultimate sacrifice for our freedom. It was the very least I could do to show I have not forgotten."
A new Gold Star Father posted pictures on Facebook of luminaries his family made in honor of his son recently KIA and their Gold Star Mother. It was truly a beautiful scene—you can see the photos, as well as photos of other displays, by clicking on the slideshow below.