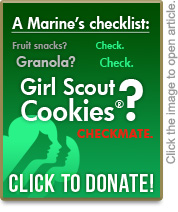 It began on March 7, and it took all of 32 days to reach our goal of $10,120 to pay for shipping so we can send Girl Scout Cookies® to Marines serving in Afghanistan combat zones. During our pack day on April 21 this year, we're shipping care packages containing 800 cases – that's 9,600 boxes – of cookies to our Marines. And since we enlisted you, every day donations came in; some days a trickle, other days a torrent: $5 here, $10 there, $12.65 here (the price to ship one case of cookies), $100 there.
The care packages, especially the ones containing Girl Scout Cookies®, are a beloved piece of home for our Marines. We know this because after every care package shipment, we get loads of postcards and letters from thankful Marines who appreciate the support from those of us back home.
Thank you! With your unwavering support, MarineParents.com truly is "a place to connect and share®".
The work at MarineParents.com, however, is never done.
We have two more pack days this year, on July 28 and October 20, so consider organizing a care package drive or donating your time or money to make them a success. We provide meals for hundreds of injured Marines and their families at Walter Reed Military Medical Center in Washington, D.C., and Naval Medical Center in San Diego, California, and your dedicated monthly support helps make it possible. We need participants and donors for Team Marine Parents™ events and you can specify where the funds go, such as Purple Heart Hero Support™, a Care Package Project™ or the Leon Deraps Memorial Scholarship Fund, to name a few.
Whatever you choose, we appreciate your support, and we couldn't do what we do without you. Thank you!