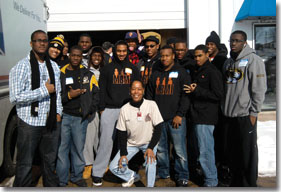 On January 6th and 13th, a University of Missouri student organization called the Mizzou Black Men's Initiative volunteered in our Care Packet Project™ warehouse in preparation for our January 22nd pack day.
The organization's members gave themselves a goal of completing 200 service hours over their winter break, and Marine Parents was one of the organizations they wanted to help.
We were happy to have them because we hadn't been getting as many volunteers in to help us prepare our care package content for the pack day. While volunteering in our warehouse, the group unpacked and organized 120 boxes of donations and they also wrapped and packaged liquid soapto include in the packages.
They were very efficient, which was a HUGE help for us. Our Care Packet Project™ Coordinator said she liked working with them because they had fun while they worked but they still maintained a great work ethic.
The group also attended the pack day on January 22nd, and helped everything run smoothly and quickly.
Thanks goes out to the Mizzou Black Men's Initiative for all of their hard work and support!