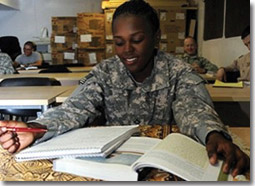 On January 4, 2011, President Obama sign into law the Post-9/11 Veterans Educational Assistance Improvements Act, otherwise known as the Post-9/11 GI Bill 2.0. This law contains several new provisions to help expand the benefits and coverage established under the original Post-9/11 GI Bill, which didn't cover all veterans equally.
The new GI Bill increases the number of veterans eligible to receive benefits such as coverage of education programs and licensure, certification or placement tests, textbook stipends and living/housing allowances. Some of the new law's provisions even include coverage for spouses of veterans and service members.
Some of the trade-offs of the Post-9/11 GI Bill 2.0 include stricter housing stipend regulations and a $17,500 fee cap for private institutions, which may not cover the cost of tuition at certain institutions. However, the cap does eliminate the confusion of a state-by-state fee cap.
Most of these reforms will not go into effect until August 2011.
Click here to read a news article on the new GI Bill.