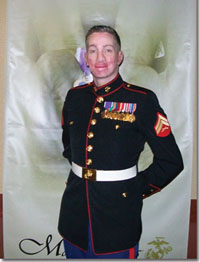 The evening of the pack day many of our volunteers, a few former Marines and other Marine families and supporters attended our Marine Parents Outreach Dinner.
The dinner was an amazing opportunity to show others the good works that Marine Parents does, and it gave attendees the chance to share their Marine Corps stories with each other. During the dinner, a Gold Star family was presented with an original ballot from the first Iraqi election, and all military personnel and their families were honored during a special ceremony.
Towards the end of the evening, our speaker Corporal Aaron Mankin gave a moving speech about his experience in the Corps and how he persevered through a traumatic IED injury while documenting Marines in Iraq through stories and photos. Many were brought to tears by the story of Cpl. Mankin's recovery and the way that he not only came to accept his injury, but embrace the changes it brought to his life.
Several special items were available for bidding during our silent auction including an official Marine Corps NCO Sword donated by Marlow H. White out of Leavenworth, KS and other Marine Corps items from our EGA Store. The money we raised from the auction will go towards funding our outreach programs, and we greatly appreciate the support! The night was truly one to remember, and we can't wait to hold the next outreach dinner!
Slideshow of pictures from the dinner coming soon!